Welt der Wunder TV has been an important part of the German media industry for more than 20 years. As a broadcasting network, they introduce and produce television shows and documentary television channels on German, Austrian and Swiss television. They are planning a completely new blockchain management license, sales and sales platform that provides high quality video content for international broadcasts, VOD and online video publishing sectors.
The distribution platform is developed and used in partnership with Swisscom Blockchain and Swiss TXT. With decades of experience, they are not entering a new market, but solving the pain by offering a sophisticated solution – with continuous transactions and good supply and demand.
In the future, this platform seeks to provide content owners the opportunity to offer their content to global markets and to easily reach buyers, users, and advertisers. Customers will be able to interact directly with the content owner or producer using blockchain technology that will provide automated, reliable, secure smart management. The use of blockchain technology continues to eliminate the need for intermediaries,
reduce the price of the content. All participants including producers, owners, and other platforms need content that will participate as part of the model in an equivalent measure.
As the business model becomes more popular, the sales structure will be expanded safely, which will allow more and more consumers and manufacturers to participate. As the content of the platform grows, the platform will evolve into a market leader position.
As mentioned earlier, Welt der Wunder TV operates in Germany. The network is renowned for producing, marketing and broadcasting high quality content. The network has a network of global content providers, media platforms and television stations. Networking in the world's second largest television market has positioned itself at the center of the professional communications industry.
HOW
Content creators choose smart deals that match their sales goals and upload content across platforms. Content is stored in the cloud, but a working copy is visible on the platform. End users will select content with the appropriate license parameters from the video library.
Selected content can be paid with different electronic currencies and even with fiat currencies. The exchange API converts cash flows into MILC token, which is distributed to the content creator while the content is provided to the new owner in real time.
PAPER TO MILC
Micro Licensing Coin is a utility token and will be the payment medium used in the micro-licensing platform. The sale of the tokens will help increase the value of the MILC in addition to the business model's popularization of the platform. The number of MILC tokens issued is 40,000,000 and 26.5% of these tokens will be available in the ICO. The equivalent percentage will be available during pre-sale.
The best thing about MILC ICO is that Welt der Wunder TV Company is an established company that has become a part of the communications industry for over 20 years. It broadcasts German and Swiss television channels. The distribution platform has been developed and the company has decades of experience. This company is not a startup like most ICO companies but it seeks to solve problems in a market they understand by offering a certain innovative solution to enjoy a good demand. Investors rest assured that the product is value for money. The ICO will soon be published on the MILC's global website
Route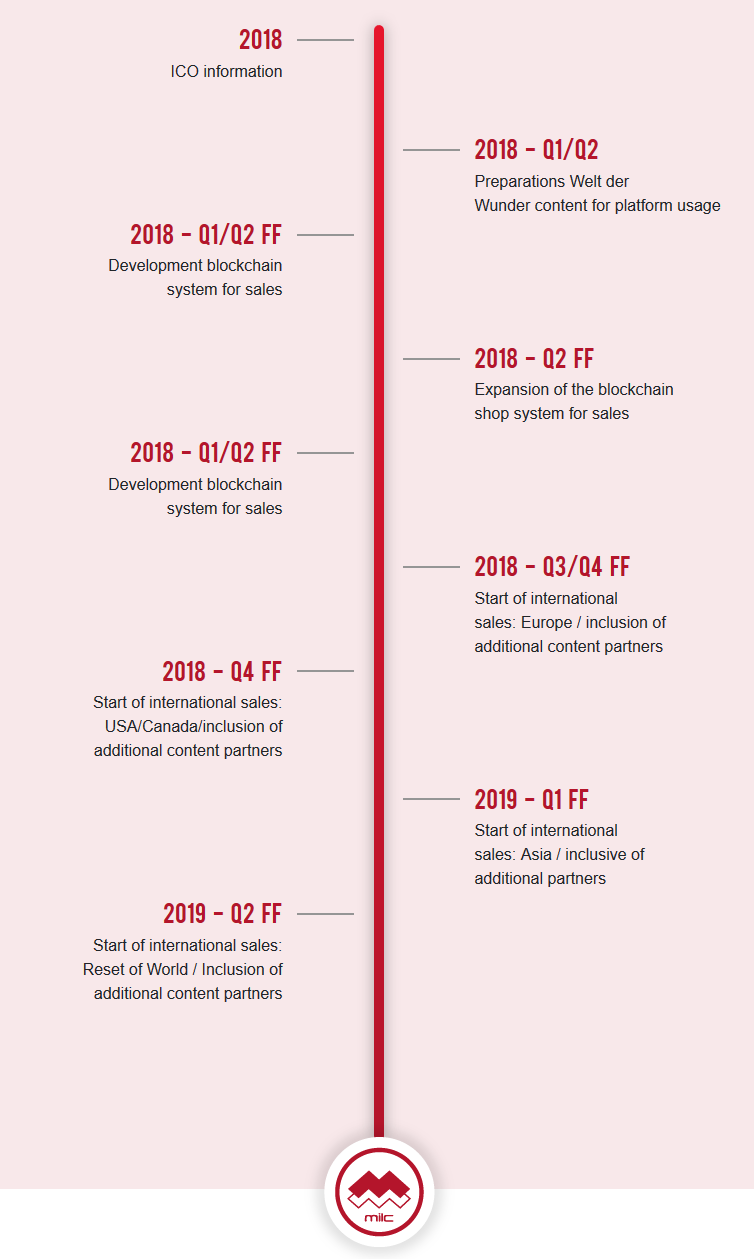 ICO Information 2018
2018 – q1 / q2
Welt derWunder content for platform usage
2018 – q1 / q2 ff
Development of blockchains system for salesDevelopment
2018 – q2 ff
Expand the blockchainshop system for sales
2018 – q1 / q2 ff
blockchainsystem for sale
2018 – q4 / q4
International Start: Europe / include additional content partners
2018 – q4 ff
Start of international sales: US / Canada / including additional content partners
2019 – q1 ff
International Start: Asia / including sub-partners
2019 – q2 ff
Start international sales: Reset the world / Include additional content partners
TEAM OF OUR TEAM
Hendrik Hey – Founder & CEO
Eugen Nussbaum – Producer and developer of the business
Manuel Mariadassou – Technical Director
Esther Hey – Sales Manager
Sandra Leinfelder – Online Editor
Anna Vogt – TV editor
Kosta Gerodimos – Technical Director
According to Theodoridis – Web developer
Ilya Bychkov – Web developer
Manuela Peter – Assistant Manager
Gabriele Franz – Accountant / Controller
Philipp Maasberg – Editor
Larissa Melville – Online Editor
Charlotte Faul – Online Editor
Holly Hey – TV editor
Tom Stahl – market researcher
ADVISORY COUNCIL
Helmut Rebstock
Co-founder and President
TGOOD
Helmut is a specialist in the field of power distribution. He created successful ventures in China and Europe. His work life is based on the exclusive business experience in China since 1998. The company's life in the EE (MIT) study, strategic planning (communication systems) and public relations (European high-speed rail technology).
Daniel Benninger
CEO und und Verwaltungsrat
SWISS TXT AG
Since more than 10 years, he is an expert in information and communication technology. Daniel's experience is connected by practical research, business and university studies based at Lucerne University of Applied Sciences, where he is a lecturer.
Robin Ribback
Innovation Manager – R & D Networks – Project ict
SWISS TXT AG
Over 25 years of experience in IT, cloud services, online media and broadcasting. His main area of ​​interest is business and product development. For one year, he was Director of Innovation in SwissTXT.
Daniel Haudenschild
Managing director
Swisscom Blockchain AG
With more than 20 years of Big-4 consultancy in financial services, Daniel provides a method of directing results to blockchain. He brings an international perspective on business, with over 10 years in Europe, Africa, Asia and the Americas. Daniel is leading the distribution team at his former position, and has consistently led the value chain with blockchain.
Sven M ller
ICO Consultant
Swisscom Blockchain AG
Sven is a missionary and distributive. He has a strong technical background and is also a management consultant in large numbers. 4. He has experience with a number of projects in the industry such as IT architects and project managers. With his team, he has won many hackathons and innovations in blockchain space.
CONCLUSION
The structure of the Blockchain MILC distribution platform is a breakthrough in the television industry and can be extended to other media fields. It can create intelligible contract structures that are readily available on the market, opening up a multi-billion dollar market for the platform. MILC's greatest potential lies in the fact that there are so many affiliates fighting the same issues in the deal. MILC can serve as a blueprint for these areas and have the opportunity to channel and develop on the common challenges in these industries. This is also a factor that can put the MILC aside as a revolutionary ICO on the global platform in the near future.
For more information please visit:
Websit: https://www.milc.global/
ANN: https://bitcointalk.org/index.php?topic=2432428.0
Whitepaper: https://welt-der-wunder.s3.eu-central-1.amazonaws.com/ico/pdfs/ICO_WhitePaper_WdW_EN.pdf?cache=7
Facebook: https://www.facebook.com/MILC-180984935788482/
Telegram: https://t.me/wdw_milc_en
Twitter: https://twitter.com/MicroLicCoin
Bitcointalk: https://bitcointalk.org/index.php?action=profile;u=2094680
ETH: 0x65a5B7Ecd90044A9a325c2cD6cCe6D3241A3c2c6